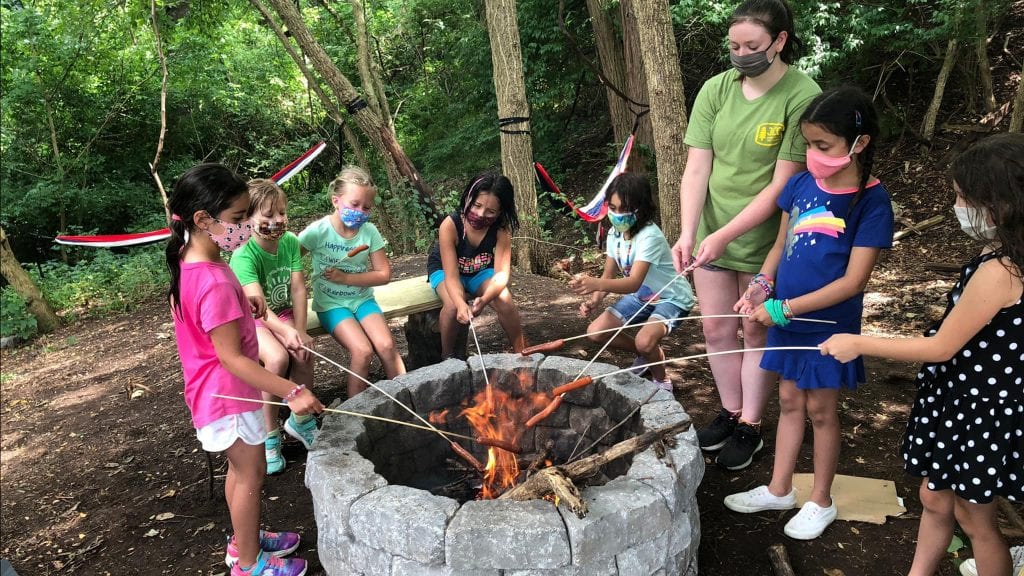 COVID-19 and JCC Day Camp Plans
Updated February 24, 2021
The health and safety of our camp community remains a top priority, and as was the case last year, a successful Summer 2021 will likely once again require us to implement a number of best practices in mitigating the risk related to Covid-19.
While Allegheny County has not yet released any updated guidelines for day camps, we have been paying very close attention to school and federal guidance to inform our in-person school day remote learning program, All Day at the J.   Our summer planning includes consultation with the American Camp Association (ACA), the Association of Camp Nurses, PA Department of Human Services and other JCC day camps from across the country.  One of the most valuable resources in our summertime preparation has been the ACA's recently updated Field Guide.
As our operational procedures continue to come into focus, we are writing to share with you some of key elements that are most likely to impact what Summer 2021 will look like.
Arrival and Departure From Camp
We are confident that the current CDC, state and local guidance will allow us to offer bus transportation to and from J&R Day Camp in Monroeville.  We are excited to be working with a new transportation service, First Student, who is committed to adhering to strict disinfecting protocols and the highest standards in school bus health and safety during this challenging time.   All families will be assigned a bus stop location and a morning drop off and afternoon pick up time.  Special consideration will be given to those families who have children attending camp/ECDC in multiple locations.   We will do our best to accommodate each family's scheduling needs.  It will be more important than ever before that parents fill out their transportation form on time when it becomes available in the spring.  Should we not be able to safely offer bus transportation, we will notify you no later than April 30th.  For our South Hills Day Camps, Squirrel Hill Specialty Camps and Performing Arts Camp families, morning drop off and afternoon pick up times will also be assigned.  We anticipate drop off and pick up to be staggered to allow for social distancing and daily health screenings.
Before- and After-Camp Care
As a result of our need to maintain physical distancing in between groups to minimize the risk of exposure to Covid, before- and after-care will not be offered in either Squirrel Hill or the South Hills.  We are still in the process of determining our scheduled hours of operation for each of our day camp locations, which we anticipate sharing by mid-April.  Factors under consideration include guidance on capacity limitations and physical distancing measures and allowing adequate time for all campers to go through a daily health screening and temperature check.   We appreciate your continued patience as our registration remains fluid and continues to change on a weekly basis.
Camper Cohorts
We are planning to once again have physical distancing occur by small groups/cohorts, not by individuals.   While we are not yet able to determine the size of camper cohorts, what we do know is that members each cohort will do all activities, meals, and snacks together.  Physical distancing between cohorts will be strictly enforced.  We will once again adjust our daily schedule to ensure campers have time to do activities in different spaces around camp location, with enough time in between for hand sanitizing and cleaning and disinfecting equipment.
Masks
At this point, all campers and staff will be required to wear masks for the entire camp day except when eating, drinking or swimming.  Mask breaks will be given throughout the day when physical distancing between individuals can occur.
Swimming
We plan to offer as much swimming as possible this summer for campers in all of our day camp locations.  We will update you with more specific plans in the next couple of months.
Travel Protocols
Keeping our camp communities safe and healthy will require diligent effort from all of our families and staff.  Families and staff will be asked to share any plans to travel and will be expected to adhere to the Pennsylvania Department of Health travel requirements before they are allowed to return to camp.  The JCC will adhere to the most up to date state requirements, which will likely change as we get closer to summer.
Registration & Payment Policies
While we look forward to having you at camp this summer and hope that the information above is helpful in making your decision, we will continue to provide our families flexible financial options should you choose not to attend any JCC Day Camp this summer.
Credit for 2022. We can apply any or all of your 2021 payments as a credit toward your 2022 camp fees, or any of our other 2021-2022 Children, Youth and Family (CYF) programming.  If you select a credit towards fall CYF programming, credit will be applied at the time of registration.
Refund Payments.  Since we have yet to make a final determination about some key elements of our summer operations, we are extending our refund deadline.  All camp payments will now be fully refundable up until April 30, 2021 should you choose to cancel.
This email will also be posted to the Covid-19 section of our day camps website for future reference.  We are frequently reviewing guidelines and will update you via email and on our website regularly as new information and guidance becomes available.
We appreciate your patience, partnership and support as we do our utmost to provide another safe, incredible summer at JCC Day Camps.
Please feel free to reach out to me directly with any questions or concerns you may have.
Division Director, Children, Youth & Family and JCC Day Camps
Director, J&R Day Camp
412-697-3537 (Direct)
—————————————————————————————–
Updated December 9th, 2020
As we did in summer 2020, we intend to safely open our day camps this coming summer and remain committed to communicating in an open and transparent way about all camp matters.   Our top priority is the health and safety of our campers, staff and their families.  We are making our health and safety plans for 2021 based upon what we know now, with the expectation that we will have to modify and adjust our plans as the year progresses.
Our preparations and ultimately our programs will utilize the best practices published by the CDC and American Camp Association, as well as our own experiences running camp in summer 2020 and our school day program, All Day at the J.  Prior to starting, each of these programs went through intense planning sessions with the Pittsburgh Regional Health Initiative, a nationally recognized leader in quality improvement for healthcare institutions. We will once again be developing and sharing Enhanced Health & Safety Protocols, which will provide families with information about how we are adapting our policies and procedures to mitigate the risk of COVID-19 in all of our day camp programs. As information from national and local health authorities is revised and updated, so too will be these protocols to reflect the most current guidance provided.
We recognize, however, that no level of preparation allows us to guarantee that our day camps will remain free from the implications of COVID-19, but we are confident in our ability to run our programs in a safe and meaningful way and to respond swiftly and intentionally when necessary to prevent the spread of COVID-19.
Our goal will be to provide a similar experience to day camp summers of years past, with flexible week-to-week session options and engaging activities that still allow opportunities for the kind of social interactions that are hard to come by right now. We know how important your camper's experience will be next summer after over a year of constant routine changes, physical distancing and increased time in front of electronic devices. We will remain flexible in our planning for the summer and are prepared to quickly pivot based on known best practices and recommendations from the field.
Prior to arriving at camp
Creating a safe and stable environment free of COVID-19 is a top priority for us.  Doing so requires our families to be our partners in participating in pre-camp screening protocols. This may include a daily temperature check and health questionnaire when you arrive at any of our day camp locations.  We worked hard in summer 2020 and in our current school day program to build shared accountability amongst our staff and families to keep one another safe.  If we work together, we will limit our risks and maintain a culture of compliance.
Meals and Snacks
We are fortunate to work with our food service company, Aladdin, and have a commercial kitchen and plenty of space onsite in all of our day camp locations to allow for food preparation and at least 6 feet of space between campers who are not in the same group or pod to safely enjoy their meals and snacks.  To remain compliant with best practices for food service, we may need to adjust how we cook and serve meals and snacks at all of our locations, just as we did in summer 2020.  This may include individually wrapped lunches and snacks and the elimination of hot food options.
As the guidance surrounding food service continues to evolve, we will adjust and update our plans for the summer so that we are fully compliant with and adhering to best practices.
In addition, we will encourage all of our camp groups to enjoy meals outside whenever possible. There are outdoor spaces with shade and picnic tables that make for great eating environments when the weather permits (which was almost every day last summer!).
Grouping children
A key measure of success throughout the pandemic for any in-person program has been to establish stable environments in which people stay within the same small groups and interactions with people outside of the group are minimal, if not completely eliminated.  This method of "cohort distancing" proved to be safe and successful in all of our day camp programs in summer 2020.  It remains possible that we will not be able to allow for the mixing of groups next summer while at camp.
We know the importance of the face-to-face interactions and relationships built within the camp community.  However, to create our stable, safe environment, we plan to, again, establish small groups, or "pods", of campers and staff.  The sizes of our groups will be determined closer to the summer and shared with families.  Campers will still have the opportunity to make group requests (with the exception of Performing Arts Camp and Specialty Camps) and every effort will be made to accommodate those requests.
It is likely that some of our traditional programs in which we gather in larger groups, units or even as an entire camp will need to be adjusted similarly to how they were in the summer of 2020.  We will still provide the same great experiences while keeping our community safely in their small groups.
Before- and After-care
We always strive to meet the needs of our families, particularly when it comes to the length of the camp day.  We hope to be able to provide before-care starting at 7am and after-care until 6pm as we have done in summers prior to 2020, but much depends on if we are able to mix campers from different groups and whether or not we are able to safely and responsibly provide transportation to and from camp.
Should we be able to safely and responsibly provide before- and after-care, before-care will be included in the cost of camp while there will be an additional charge for your camper to attend after-care.  More information on before- and after-care will be available in the spring.
Sanitizing and Cleaning
Healthy practices were key to our success in summer 2020 and will remain the priority in all of our day camp programs.
Children and staff will sanitize hands upon arrival to camp, between activities, before and after eating, and after changing/using the bathroom.
Common high-touch spots such as door handles, program equipment and materials, and restrooms will be disinfected as often as possible throughout the day, including at the beginning and end of the day.  Daily cleanings will be done by our housekeeping staff in compliance with guidance from the PA Department of Health and with best practices in mind.
Specialists and instructors will have supplies in each program area so they can disinfect spaces and equipment in between group uses.  Counselors will carry backpacks with them at all times containing cleaning and sanitation supplies for both hands and equipment.
Refunds and Payments
This pandemic has caused financial stress on so many of us. Our day camps and the JCC of Greater Pittsburgh are no exception. We remain committed to providing our families with the flexibility needed in making their camp payments for next summer, and unless you've already registered and started a payment plan, we will not begin charging camp fees until January 2021 at the earliest.
Although we have every intention to deliver another incredible summer experience, we will provide our families with the option for a full refund if (i) our program is modified in a significant way, (ii) you are uncomfortable sending your camper(s), or (iii) if we cannot run camp at all. While the fundraising dollars we have received to this point have helped bridge some of the financial gaps remaining from last summer, we would certainly appreciate any additional support our in our continued recovery efforts. (Contribute to the JCC's Recovery Efforts)
Special Events
There are many opportunities and experiences throughout our summer where we have historically gathered for campfires, performances, Color War, Flagpole and, of course, Shabbat. We know how important these experiences are to our camp community, and we intend to enjoy these magical camp moments together again in a safe and responsible manner, similarly to how we did in summer 2020.
All camp gatherings where we sing, dance and cheer may not happen in the same way they did in previous summers.  However, just as we did in summer 2020, we will be ready to adapt those experiences to happen just as meaningfully in our small groups.
Staffing Camp
Day camp staff is the heart of our camp community.  We are excited to welcome back many members of our incredible team to help deliver our 2021 summer, and have their commitment to do so in a safe and responsible way. This includes strict adherence to cohort distancing, mask wearing while in close proximity to each other, or wearing the appropriate PPE while delivering programs during the day, among other health and safety responsibilities.  Any pre-camp arrival requirements that we ask of our campers will also be asked and required of all staff.
Transportation to/from Camp
We have not yet made a determination about whether we will be able to offer bus transportation to and from our day camps for summer 2021.  Riding on buses while making sure we are in full compliance with the guidance and best practices available is an inherently difficult task.  We know that many of our families rely on the JCC to provide transportation as part of the overall camp experience. As our approach to getting campers and staff to and from our camp locations comes into focus, we will communicate with our families so that there is ample time to prepare for alternative transportation to camp, if necessary.