J&R Day Camp
JUNE 27 – AUGUST 19 | Kindergarten-Grade 8
Monday-Friday: 9:00am - 3:30pm at the Family Park, Monroeville
J&R Campers wish the summer would never end!
At J&R Day Camp, located on our beautiful 100-acre wooded site in Monroeville, campers are encouraged by enthusiastic staff to explore new interests, cultivate skills and find new opportunities to engage, create and have fun. Our action-packed schedule provides a balance of group activities and special campwide programs. With sports, aquatics, outdoor adventure, arts & crafts, drama, nature and music, our campers enjoy a well-balanced, well-rounded experience in a gorgeous and safe environment.
J&R Calendar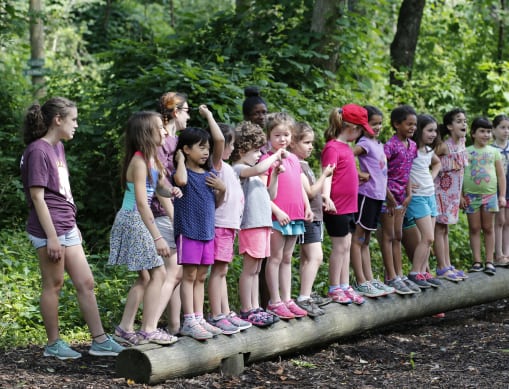 WHAT WE OFFER BY AGE
Tira Unit | Kindergarten
• Staff members are trained to work with young campers. Staff/camper ratio is 1 to 4.
• Children take daily ARC certified swim lessons based on their skill level and enjoy free swim in our zero-entry mushroom pool and Olympic-size pool.
• Introduction to skill based & lesson learning at activity areas (bike riding included.)
• Indoor location for group activities
• Kindergartners have shorter activity periods than our older campers with longer transition times.
• Team building on our Low Ropes Course and beginner tennis Instruction
• Nature hikes & campfire adventures!
WHAT WE OFFER BY AGE
Jerusalem Unit | First Grade
• Nature hikes and introduction to campfire building in the woods
• Biking
• Low Ropes Course challenges
• Children take daily ARC certified swim lessons based on their skill level and enjoy free swim in our Olympic-size pool.
• Free swim in our Olympic-size pool
• Slightly longer activity periods
• Campers begin to explore our 100 acre woods during Nature and Outdoor Adventure Programs
• Skill based learning & instruction in all activity areas
WHAT WE OFFER BY AGE
Shalom Unit | Second Grade
• Chugim (hobby time)—Each week campers select a specialty area they'd like to develop or improve skills in. Choices include dance, art, drama, music, archery, tennis, Israeli culture, outdoor adventure, basketball and synchronized swimming. Some of our Chugim (dance, drama, music) end with performances.
• Scheduled lunchtime cookouts in the woods and cooking projects
• Skill based learning & instruction in all activity areas
• Children take daily ARC certified swim lessons based on their skill level and enjoy free swim in our Olympic-size pool.
• Staff members are American Red Cross CPR & First Aid Certified
WHAT WE OFFER BY AGE
Eilat | third grade to fifth
• Daily ARC certified swim lessons based on skill level
• Special field trips offered
• Each session there are optional overnights with camper-friendly menus for dinner cookouts, s'mores, singing around the campfire and sleeping under the stars at J&R and EKC.
• Campers in Eilat have the opportunity to customize their weekly schedules.
• Weekly Chugim (hobby time) choices that can enhance personal skill development. These skill based activities include & are not limited to: art, drama, music, archery, tennis, Israeli culture, outdoor adventure, basketball, diving and synchronized swimming
• Low and High Ropes Course challenges
WHAT WE OFFER BY AGE
Misgav | Grades 6-8
• Designated "home base" space separate from younger campers
• Full slate of diverse activities and specialty tracks