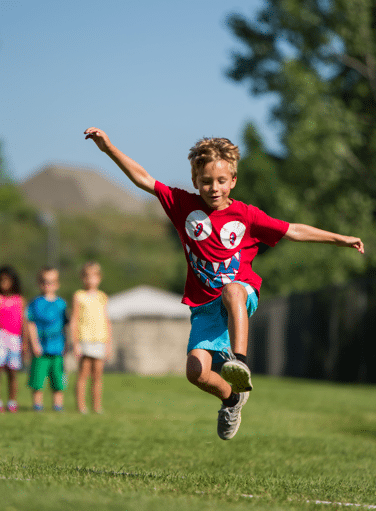 MONROEVILLE
CAMPERS WISH THE SUMMER WOULD LAST FOREVER
Camps based in Monroeville include our flagship J&R Day Camp, Misgav Middle School Camp and Specialty Camps, where children grow and flourish, encouraged by enthusiastic staff to explore new interests, cultivate skills and find new opportunities to engage, create and have fun.
Our action-packed schedule provides a balance of group activities and special campwide programs. With sports, aquatics, outdoor adventure, arts & crafts, drama, nature and music, our campers enjoy a well-balanced, well-rounded experience in a gorgeous and safe environment.
Our day camps connect campers together through unique experiences and lasting relationships. We weave Jewish values into the daily lives of our campers through music, art, dance, and sports. At our camps, there is a place for every camper, whether she or he is a team player, an individualist, creative, athletic, or any combination. Your child will be cared for, respected and appreciated. Inclusiveness and respect for every individual are paramount to our day camp community.
Campers are challenged in developmentally appropriate ways. At whatever stage a child starts the summer at our day camps, he or she will begin a progressive journey through the creative programming we offer.
REGISTER NOW
Check out what camp is really like!
VIEW SAMPLE SCHEDULE
A Day at J&R
7:30 am
Morning care at the JCC in Squirrel Hill, Robinson Building
9:00 am
Arrival at camp
9:30 am
Flagpole—singing, cheering flag raising and recognizing special events such as birthdays
10:00 am
Activity Adventure #1 – (Examples include: Arts & Crafts, American Red Cross Certified Swim Instruction, Gaga, Sustainable Garden Life)

10:45 am
Snack
11:00 am
Activity Adventure #2 (Examples include: Music, Ropes Course Adventures, Trailblazing Nature Hike, Cooking)
Noon Lunch
1:00 pm
Activity Adventure #3 (Example include: Basketball, Archery, Slip and Slide, Drama)

2:00 pm
Activity Adventure #4 (Examples include: Chicken Coop Care, Pedal Carts and Biking, Tetherball)
2:45 pm
Snack
3:00 pm
Team-building activity for entire camp
3:15 pm
Popsicles, board buses
3:30 pm
Depart camp
4:00-6:00 pm
After-camp care at the JCC in Squirrel Hill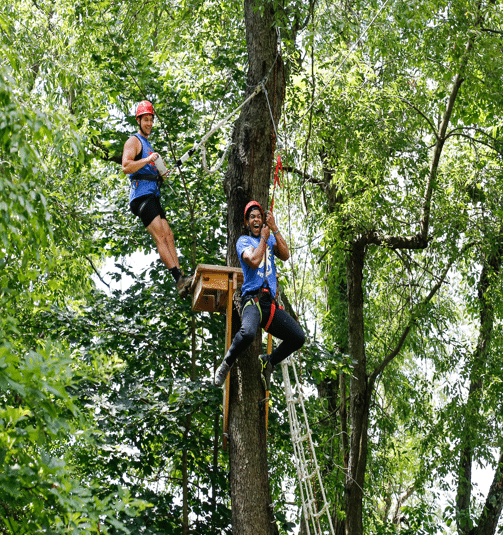 OUR BEAUTIFUL CAMPUS
With 100 acres of outdoor space, J&R Day Camp provides a unique setting that is truly one-of-a kind. It's a place that many campers, former campers, staff and former staff fondly refer to as their favorite place in the world.
Our property is centered around our swimming park, which features outdoor heated swimming pool and zero entry walk in pool. These pools provide a home for daily swim instruction and lots of fun.
And while any mention of rain prompts the expression: "It never rains at J&R…" it's important to know that our property features many indoor areas to keep our campers dry when mother nature decides to help our garden grow.
Top Notch Facilities
Offering our campers the opportunity to grow, accomplish, celebrate and keep growing…all while having fun…is our major goal! We make full use of our Outdoor Adventure, Arts & Crafts, Visual and Performing Arts and Athletics facilities, and we keep them fully up-to-date.
Campers can immerse themselves in projects in our Arts & Crafts pavilion. We've brought back our beautiful outdoor amphitheater to enjoy song sessions, performances, or just casual camper activities Our Ropes Course received an update and upgrade in 2017. On the Low Ropes Challenge Course, we've redone our fidget ladder, spider web and nitro walk, and we've added a whale watch, Zip Line Course, and Giant Swing. Our course is ACCT and ACA certified.
Our oldest campers enjoy their very own secluded private space at Camp. A separate indoor pavilion, small cabin and 100-yard field creates a village that campers fill with spirit and excitement throughout Camp.
Top Notch Facilities
100-acre wooded site with hiking trails and a creek for exploration

Heated Olympic-size swimming pool

Zero-entry play pool with mushroom and rainbow sprays

Mini-golf

Climbing wall

Sports fields

Tennis courts

6 low rope elements and 3 high ropes elements

State of the Art Gaga Court

9 Square Championship Arena for every camper and staff